Password Managers
Absolute Password Protector
There are a lot of password protection utilities on the market today that promise a secure storage for your files. Unfortunately, simple password protection techniques do not guarantee safety and passwords are easily recovered. Absolute Password Protector offers a brand new level of security using strong encryption algorithms to encrypt your files. Program hides sensitive data in pictures and encrypted files can be safely transferred via e-mail.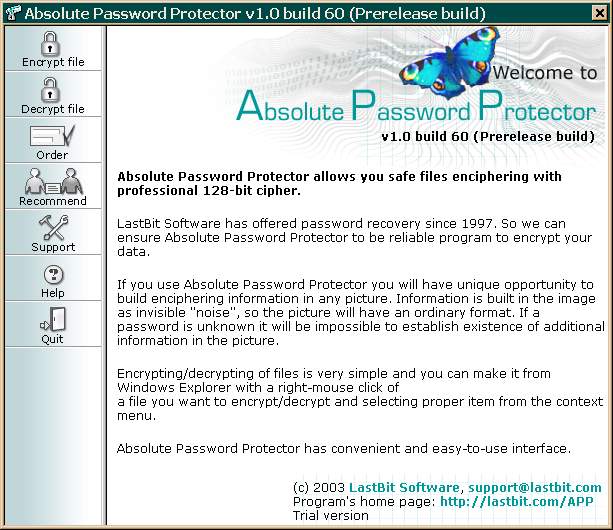 Download
(1064 K)
Released:
2005-02-23
Language:
English
Platform:
Win98, WinME, WinXP, WinNT 4. x, Windows2000, Windows2003
Price:
29 $
Requirements:
A standard Windows PC
Related software:
-
Zip Password
- Password recovery tool for pkzip/WinZip
-
PowerPoint Password
- PowerPoint Password: password recovery for protected PowerPoint presentations.
-
Excel Password
- Excel Password recovers any Excel password within a minute.
Print this page