Onlinesecurity-ON / PowerPoint Password
Password Managers
PowerPoint Password
PowerPoint Password is a password recovery tool, which comes in very handy if you forgot, lost, or misplaced your password for PowerPoint presentations (*.ppt, *.pps files). PowerPoint password protection is based on strong crypto algorithms, so password recovery is a complex task. PowerPoint Password uses various recovery methods: Plain Dictionary and Hybrid Dictionary attacks, Brute-Force attacks, and Smart-Force (TM) attacks.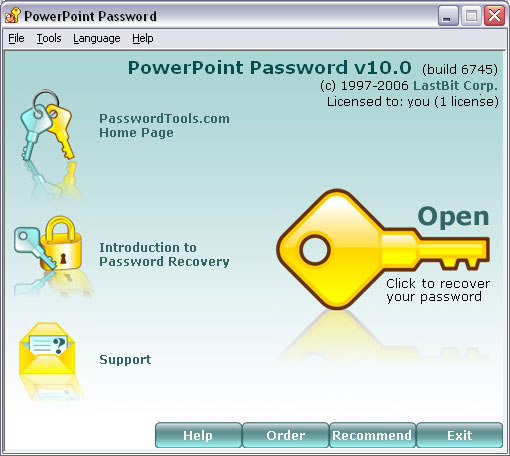 Download
(701 K)
Released:
2005-10-27
Language:
English
Platform:
Win95, Win98, WinME, WinXP, WinNT 4. x, Windows2000, Windows2003
Price:
39 $
Requirements:
A standard Windows PC
Related software:
-
Zip Password
- Password recovery tool for pkzip/WinZip
-
Excel Password
- Excel Password recovers any Excel password within a minute.
DeafNet.Software