Utilities
Service Hawk
Don't risk losing money or valuable customers due to service failures! Keep your Windows Services running or restart them on a user-defined schedule. Service Hawk can periodically restart services on a user-defined schedule regardless of their state, ensuring that your services are running smoothly and stay operational. Often a service reports that it is "running" but is in a hung or frozen state. Scheduling an automatic restart is the solution!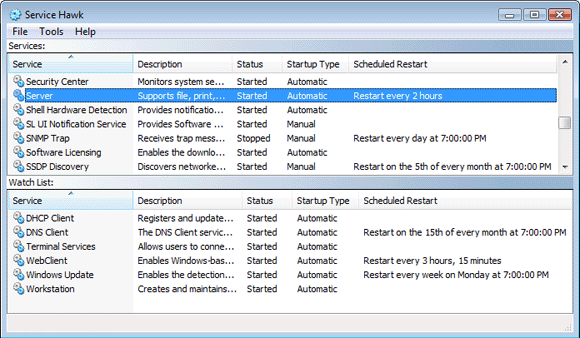 Download
(2354 K)
Released:
2007-03-13
Language:
English
Platform:
Windows2000, WinXP, Windows2003
Price:
179 $
Requirements:
64 MB RAM (128 recommended)
Related software:
-
Iside
- Iside is a message digest computing and displaying tool (MD5,SHA1, CRC32,...)
-
! - Error Fixer
- Safely Scans, Cleans, and Repairs you PC of any Errors that cause pc slowness.
-
NShred
- Definitively erase and destroy folders or files with standard procedures
Print this page